Martin Jeremiah's 2nd CD incorporating several extra local musicians and friends and a new batch of his self-penned songs.
Track 9 "The Dragon Slayed George" asked a question who really killed Jill Dando…very poignant and very true! Barry George was eventually cleared of her murder several years later. Did Martin's song here help his cause?…I think 'yes'. It sewed doubt and that was it's intention. Well done Martin!
Track 12 Jeermud's Dream was written and composed by Julia Hill 1959-2001 to whose memory this CD is dedicated.

I recorded this CD at Martin's home and these are the musical friends who are involved:
MARTIN JEREMIAH……Vocals, Guitar, Co-Production
ELLEN BATESON….Harmony Vocals, Recorder, Whistle, Acoustic Bass
TIM KENT……Keyboards, Effects, Co-Production, Mastering, Photos
ALAN WHEELER……12 String Guitar, 6-Course Mandolin
ANNE SARTAIN……Recorder
PETE O'CONNELL……Drums
DAVE GILL……Bass Guitar
KEITH KENDALL……Lead Guitar
VAL MARCIANDI……English Concertina
KEITH WHIDDON……Bouzouki

What an enjoyable time we all had making this CD…and what a stonkingly good one it is!!!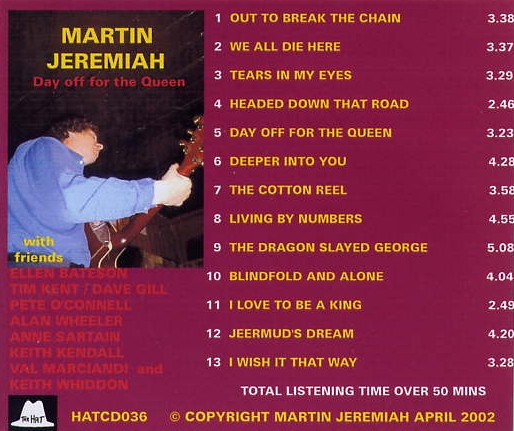 Track 13 I WISH IT THAT WAY
Track 1 OUT TO BREAK THE CHAIN

Track 2 WE ALL DIE HERE

Track 6 DEEPER INTO YOU

Track 12 JEERMUD'S DREAM

Track 5 DAY OFF FOR THE QUEEN