Noel Dumbrell is one of the last truely Sussex-born unaccompanied folk singers around. He accompanies himself playing harmonica in the style of the late great Larry Adler. The songs on this CD are a tribute to another Sussex legendary folksinger the late Len Pelling who was around when Noel was a kid in the Sussex village of Ashurst. Noel's style of singing is very clear and listenable and his songs here all tell a tale. I spent a good deal of time recording and listening to ALL of Noel's words to these songs and after 3 days had them all written down word for word with all explanations of their meaning! Noel and I are very proud of this CD which will stand the test of time and be a super testimonial to his unique style of entertaining. I was disappointed at the mediocre local review of this CD and hope that in years to come certain people will change their viewpoints! In my mind Noel Dumbrell IS a true piece of Sussex Folklore and these songs and words are priceless!
NOEL AND DOREEN DUMBRELL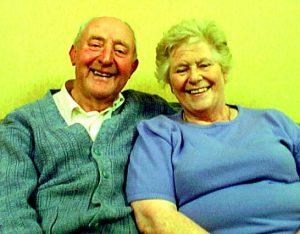 NOEL AND HIS LOVELY DOG DALLAS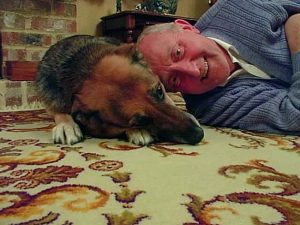 TIM KENT (ME) OUTSIDE THE FOUNTAIN INN, ASHURST……WHICH SELLS A GOOD PINT OF HARVEYS!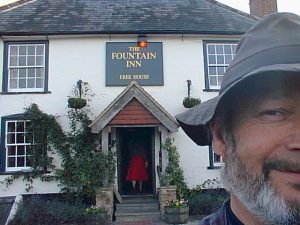 THE FOUNTAIN INN AT ASHURST, SUSSEX.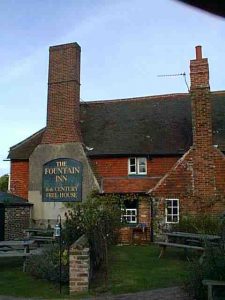 PIC OF OLD LEN PELLING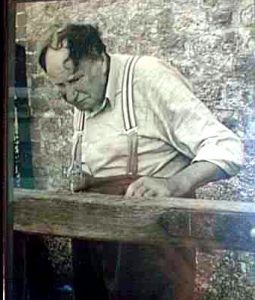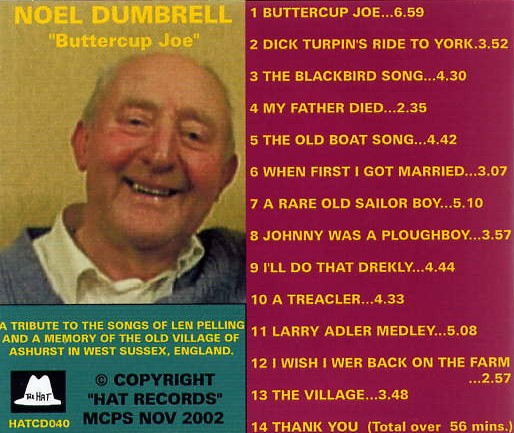 Track 9 I'LL DO THAT DREKLY

Track 11 LARRY ADLER MEDLEY

Track 13 THE VILLAGE

Track 1 BUTTERCUP JOE

Track 2 DICK TURPIN'S RIDE TO YORK

Track 10 A TREACLER