The Brighton Welsh Male Voice Choir had heard about my growing Hat Records Empire and rang me up and asked if I could make a CD for them…this was a new challenge which I eagerly relished. I bought a new set of special Condenser microphones and on the planned morning set off for a church in Neville Avenue, Hove to do a day's recording. This was a lovely experience and the Lads and lassies were on fine form and they made me feel welcome! I made them feel at ease too and the net result was a wonderful CD to celebrate their 25th Anniversary.
Naomi Sinstadt provided some lovely harp playing too to add a small variety to the choir's singing .
This CD has sold so well for BWMVC over the years and continues to do so…I am so proud to have been responsible for it!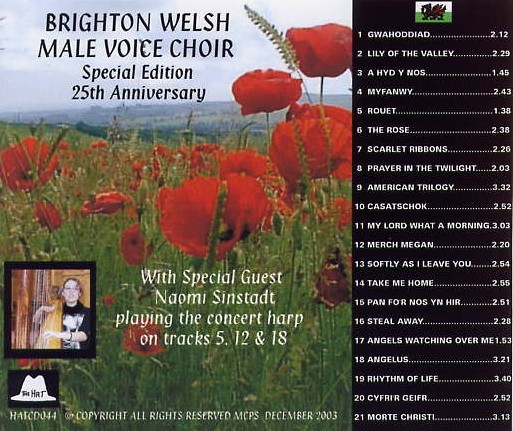 Track 5 ROUET

Track 11 MY LORD WHAT A MORNING

Track 19 RHYTHM OF LIFE

Track 3 A HYD Y NOS

Track 6 THE ROSE